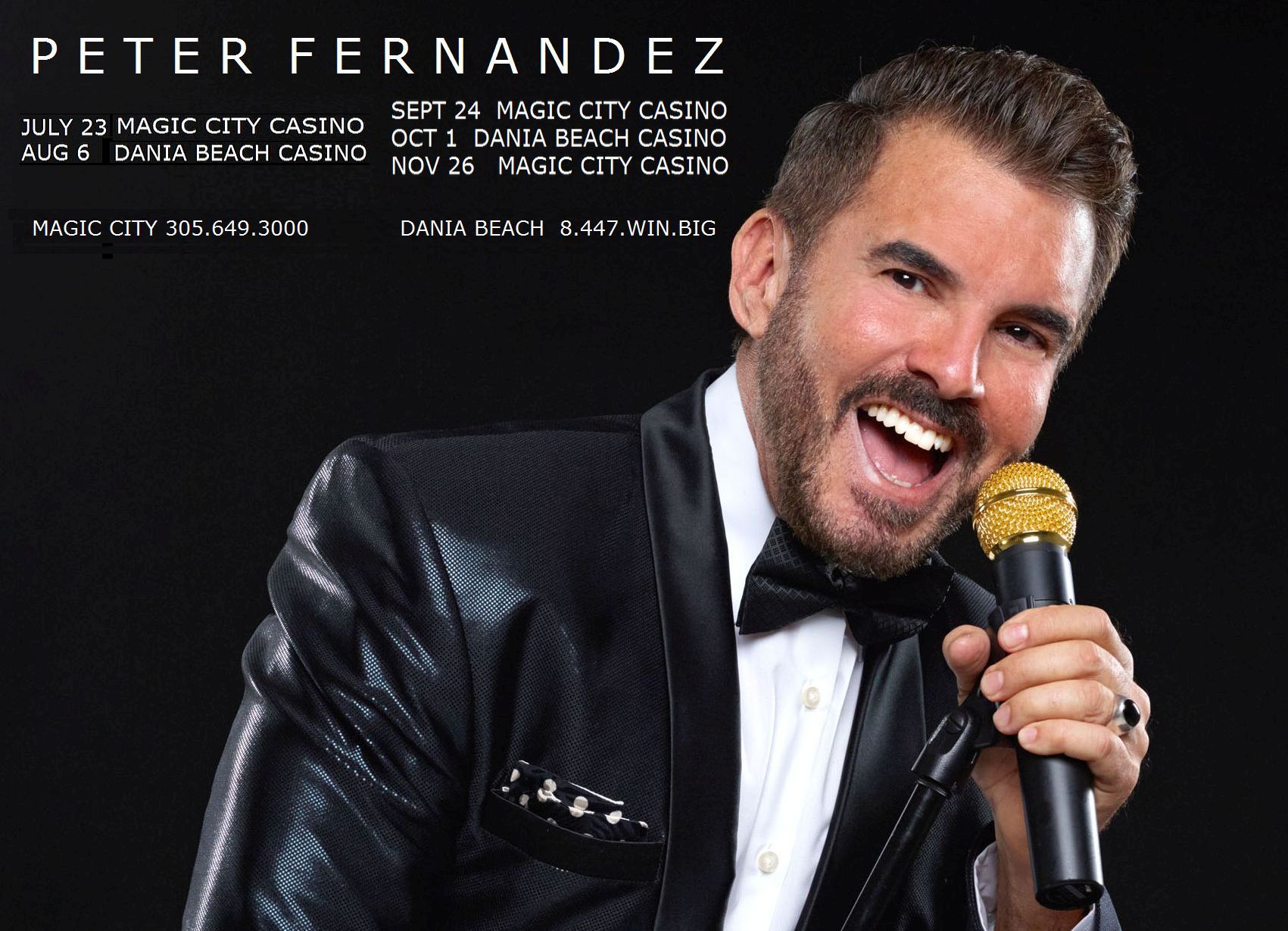 DANIA BEACH EVENT: BROADWAY LIGHTS & DISCO NIGHTS
  OCT 1     FREE GENERAL ADMISSION, FREE PARKING
THE CASINO @ DANIA BEACH 331 E, DANIA BEACH BLVD  VIP TABLES 954.342.1281
See show clips and listen English language radio spot we run prior to the show here:
About Broadway Lights & Disco Nights Starring Peter Fernandez
Broadway Lights and Disco Nights is a variety show of musicals throughout the decades. It is the most complete evening of entertainment ever before offered in South Florida featuring 10 musicians, talented backup singers and the vocal dexterity and commanding stage presence of Peter Fernandez. This one of a kind show is the first to combine the best of live musical theater followed by a fun filled after party for your dancing pleasure. After a great show, you can dance the night away in an atmosphere reminiscent of the great clubs of the 70s & 80s Disco Era withou having to leave the venue!  The Broadway segment includes your all-time favorite classics as well as music from current shows now running on Broadway. You'll hear the greatest songs from shows like "Rock Of Ages," "Beautiful (The Carole King Musical)," "An American in Paris," "Grease," "Jersey Boys," "The Phantom of the Opera," "Wicked," "Hair" and others.
****
MAGIC CITY EVENT: PETER FERNANDEZ & The Open House Band
JULY 23, SEPT 24, NOV 26   FREE GENERAL ADMISSION, FREE PARKING
MAGIC CITY CASINO CORNER OF 37th AVE & NW 7  ST   VIP TABLES  305.6493000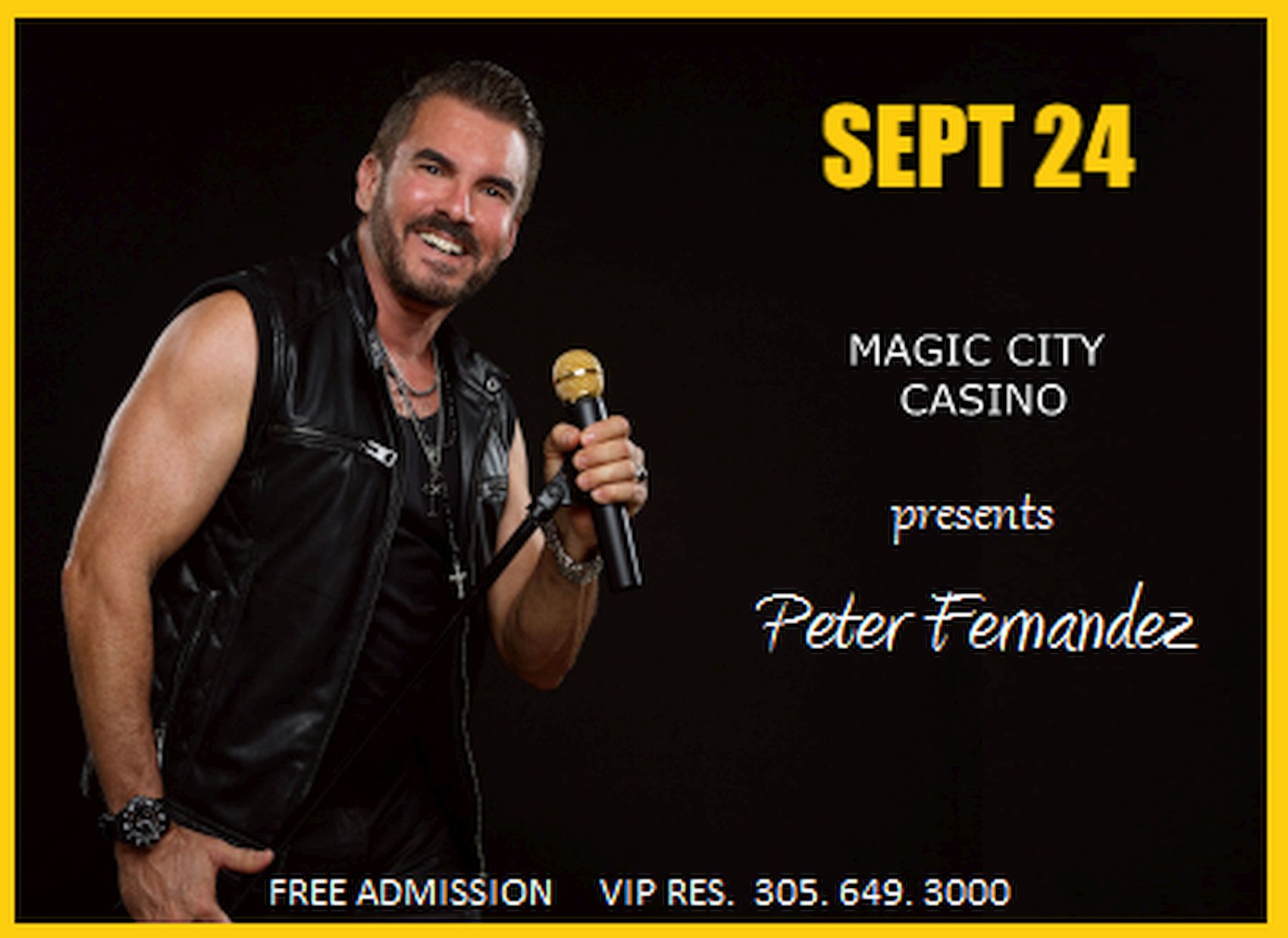 See show clips and listen to Spanish language radio spot we run prior to the show here:
About Peter Fernandez & The Open House Band
A fun filled night with the greatest music of the baby boomer generation! All who love the music of this era will thoroughly enjoy dancing to the best music of the 70's and 80's.  You'll dance to Donna Summer, Barry White and everything in between. Peter's band are a group of 10 incredible musicians who play everything from the best 70's funk to the Motown classics that inspired it all. Singer Peter Fernandez is a pioneer of the Miami Sound who has sold thousands of records as lead singer to two of Miami's most popular 70's bands, Coke & The Antiques.  Peter Fernandez & The Open House Band with continuous music by Carlos Dj Sonic have been packing Magic City Casino since Peter's first  Miami comeback appearance on Nov. 25th, 2011..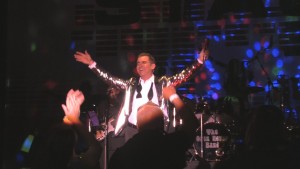 From day one we broke attendance records in Secada's at Magic City. By my 3rd performance I was offered Stage 305 the main Venue of the Casino where Michael Bolton, Rare Earth, War and many National Acts usually perform. I am proud to say that I am the first local Miami talent to have performed at Stage305 and at the new Casino@Dania Beach. I am blessed to have a wonderful relationship as part of the Magic City Casino / Casino@Dania Beach family and grateful to all of you who continue to support me.  – Peter Fernandez